Background
The CRTO has traditionally created a strategic plan that is reviewed and revised every four (4) to five (5) years. In 2016, the focus of this document shifted from a strategic "plan" to the CRTO's strategic "direction" in recognition of the numerous evolving factors that influence the decision and actions of our organization. At that same time, the following five (5) strategic domains were established:
Member Engagement
Governance & Accountability
Enhancing Professionalism
Healthcare Community
Core Business Practices
Foundation of the Strategic Direction & Key Priorities 
Building on the most recent 2016 – 2020 CRTO Strategic Direction & Key Priorities document, this updated version is heavily influenced by the Ministry of Health's (MOH) 2021 College Performance Measurement Framework (CPMF) reporting requirements (. Within that framework are many overriding expectations, which include:
Council & Committee members

Competency-based selection criteria
Decision-making free of any actual, potential, or perceived conflict of interest
Clear code of conduct

College processes

Adherence to the principles of diversity, equity, and inclusion
Transparent & easily accessible information available for both Members & the public
Ongoing tracking & review of Key Performance Indicators (KPI)
Careful management of internal & external organizational risks
Alignment of CPMF with CRTO Strategic Direction
There are several areas in which the CRTO committed to improving upon after our 2020 CPMF report was submitted. Also, in the 2021 CPMF reporting template, the MOH has identified many more areas where it would like to see clear evidence of compliance. Therefore, in the coming months and years, the CRTO must focus much of its strategic direction on the expectations outlined in the CPMF.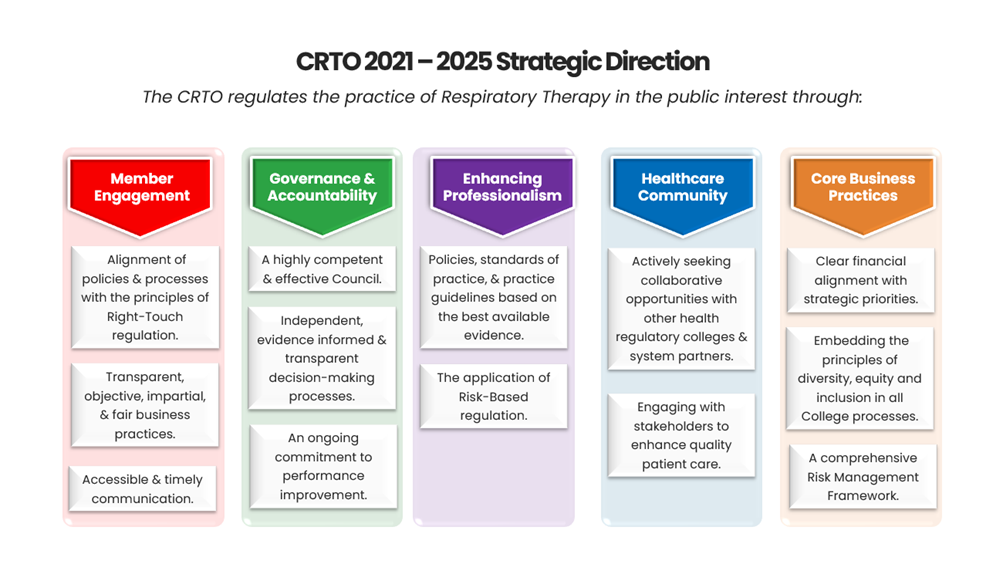 Key Priorities
The key priorities become how the CRTO will operationalize each element within our Strategic Direction.
Member Engagement
Alignment of policies & processes with the principles of Right-Touch regulation.
Evidence-informed approach to QA selection, assessments & remediation.
Framework for the prioritization of investigations, complaints, & reports.
Transparent, objective, impartial, & fair practices.
Clear direction regarding the registration requirements for all applicants.
A complaints process supported by publicly accessible policies & procedures.
Accessible & timely communication.
Increase the amount of information available on our website in written and online module format.
Optimize the use of various communication platforms.
Governance & Accountability
A highly competent & effective Council.
Publicly accessible Council & Committee competency self-evaluation & an online, pre-application learning module.
Framework to regularly evaluate the effectiveness of Council meetings & Council with a third-party assessment of Council (min. every three years).
Ongoing training provided to Council & Committee members informed by the outcome of relevant evaluation(s) and the needs identified by Council and Committee members.
Independent, evidence-informed & transparent decision-making processes.
Publicly accessible Code of Conduct & Conflict of Interest policy for Council & Committee members.
An ongoing commitment to performance improvement.
Tracking & review of Key Performance Indicators (KPIs) linked to the CRTO strategic objectives.
Ongoing monitoring on KPI dashboard.
Enhancing Professionalism
Policies, standards of practice, & practice guidelines based on the best available evidence.
Policy framework & review/revision of all policies and practice guidelines.
Standards of Practice & Ethical Practice documents promotes Diversity, Equity, and Inclusion (DEI).
Supporting the application of new or amended practice standards.
Online modules to support difficult-to-understand and novel practice standards.
The application of Risk-Based regulation.
Formal risk assessments in all RC, QAC & ICRC decisions.
Healthcare Community
Actively seeking collaborative opportunities with other health regulatory colleges & system partners.
Creation of common standards (where possible) both provincially and nationally.
Engaging with stakeholders to enhance quality patient care.
Demonstrate how stakeholder feedback is incorporated into the development/revision of policies, standards, and practice guidelines.
Core Business Practices
Clear financial alignment with strategic priorities.
Revised financial statement & investment portfolio presentation
A policy that clearly outlines the management of financial reserves
Finance & Audit Committee
Embedding the principles of diversity, equity, and inclusion in College processes.
DEI training for Council, Committee & staff members
Equity Impact Assessment
A comprehensive Risk Management Framework
The formal process to identify & monitor internal & external organizational risk (e.g., financial & human resources, cyber security, etc.)
Succession plan for senior leadership