The CRTO produces a variety of documents related to the practice of Respiratory Therapy. These may be very specific or provide general guidance on how a competent, ethical, principled RT should practice. A Policy Framework has been developed that classifies its regulatory documents into clear definitions and helps guide the CRTO's processes for establishing and revising these documents. This framework is shown below, along with a summary of each document (a detailed overview of the Policy Framework is available here). Note that the CRTO has also established a Policy Development Cycle and Public Consultation Process to guide the development of its policies and other regulatory documents. 
Note: the CRTO established its Policy Framework in the Spring of 2021 and is currently in the process of refreshing and revising its existing documents to align them with the framework. It is expected that this process will be complete by the end of 2021.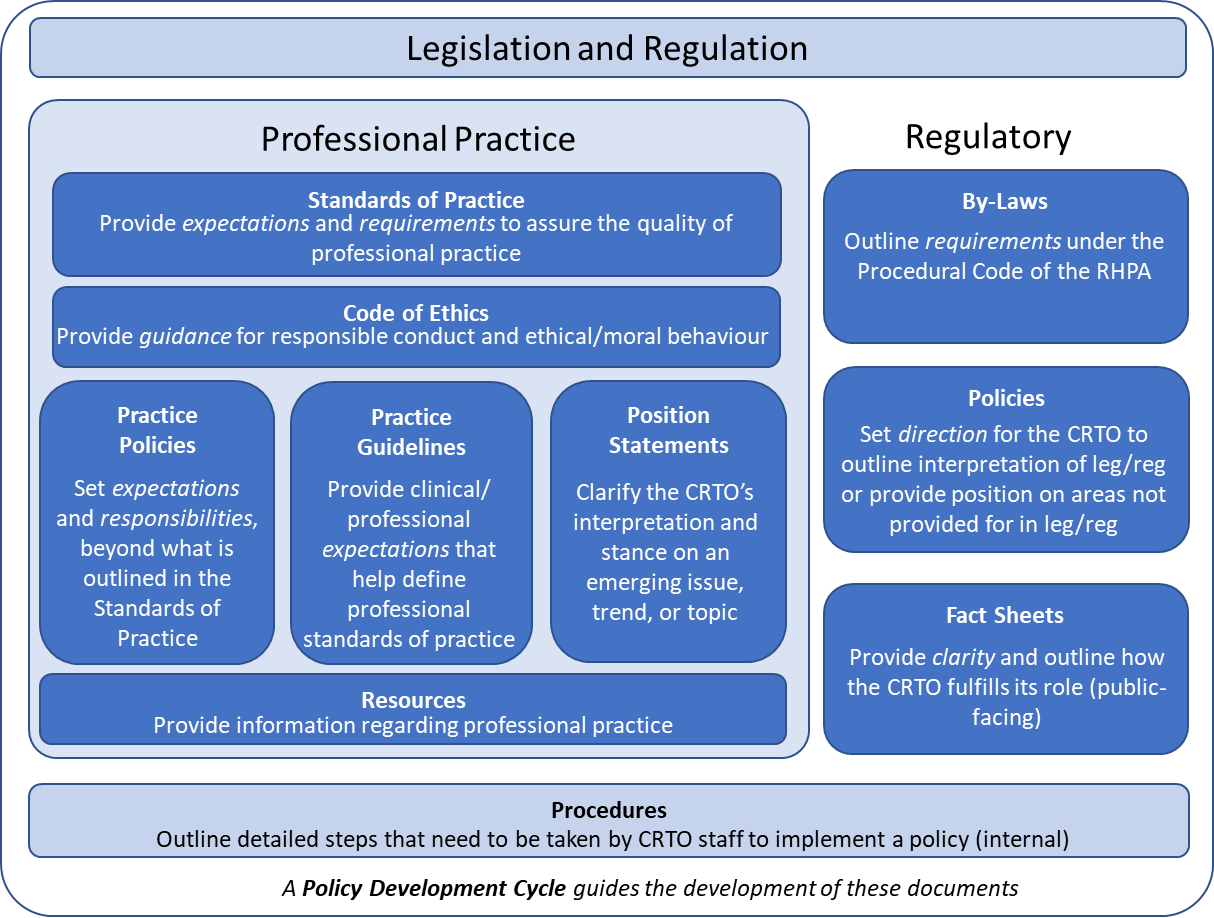 Document Classification
The CRTO's documents can be grouped into two domains, based on the intended audience:
Professional Practice: Documents that set expectations for the practice of Respiratory Therapy; and
Regulatory: Documents that set direction for the CRTO in how it conducts its regulatory role.
Professional Practice Domain
Describes the requirements for professional practice. Registrants are professionally accountable to practice in accordance with these Standards. Standards of Practice assure the quality of the practice of the profession and provide a basis to evaluate if professional responsibilities have been maintained.
Practice policies
Set out expectations and responsibilities for the profession, beyond what is outlined in the standards of practice. Practice policies can be used as a benchmark against which the conduct of an individual is evaluated.
The guidance and expectations provided to registrants of the CRTO, providing direction regarding adherence to Standards of Practice and their clinical practice expectations. Although Practice Guidelines are not legislation, they are used by the CRTO as a benchmark to help define appropriate professional practice.
Position statements clarify the CRTO's interpretation and stance on an emerging issue, trend, or topic. Professional standards and expectations vary based on societal and practice changes, thus creating ambiguity around practice expectations. Position Statements allow the CRTO to clarify its stance, in an environment where this may not be straightforward. These time-sensitive documents allow the CRTO to be nimble and responsive, so that the profession has the direction it needs to move forward.
Resources
Provide information to registrants regarding their professional practice.
Provide guidance to registrants for responsible conduct, and ethical/moral behaviour in professional practice. The CRTO's Code of Ethics, A Commitment to Ethical Practice, provides guidance for ethical decisions and sets expectations for ethical and moral behaviour. This document is considered part of the policy framework, as it is an important element of professional practice.
Regulatory Domain
A rule adopted by the CRTO for the government of its members and the regulation of its affairs. The Health Professions Procedural Code of the RHPA provides the CRTO Council with authority to make by-laws relating to the administrative and internal affairs of the CRTO.
Outlines the CRTO's direction or interpretation of legislation and regulations; OR provides position or direction in areas that are not outlined in existing regulatory documents. Policies set the direction for the CRTO to outline its interpretation of legislation and regulations when the interpretation is not clear. Policies are also required to provide clear direction on WHAT needs to be done in situations where no other direction exists.
Interprets legislation/regulation to provide clarity, and outlines how the CRTO fulfills its role. These public-facing documents provide information, resources, and procedures to describe HOW things are done, without providing a position on an issue.
Procedure
Outlines detailed steps that need to be taken by CRTO staff to implement a policy. This internal (i.e. not public-facing) document provides instructions for staff to ensure consistency, accountability, and fairness in how policies are operationalized.